At River Dental in Medicine Hat, Alberta our dentists can custom fit patients with Pure Power mouth guards to safeguard your smile.
---
Whether you're a child or an adult, you know that a custom-fitted mouth guard is the best way to protect your teeth and jaw when participating in activities such as sports or gymnastics.
River Dental offers custom fittings with the Pure Power mouth guard to ensure you or your child is protected during activities.
---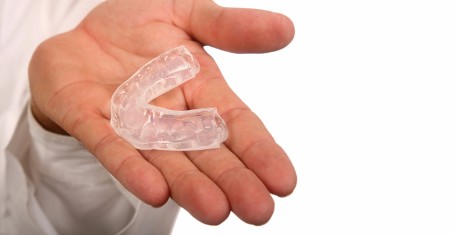 Mouth Guard FAQs
What is a mouth guard?
mouth guards are protective coverings worn over teeth to prevent sports-related injuries to teeth and soft tissues. They are designed to minimize traumatic injury by providing a resilient surface which can disperse forces on impact. mouth guards can also be used to prevent teeth grinding.
Why use a mouth guard?
A blow to the mouth or jaw can be extremely painful, cause extensive dental damage and cost a lot of money. Without a mouth guard, the risk of injury is 1.6 to 1.9 times greater. (source – American Dental Association) The right fitting mouth guard can significantly reduce the chance of receiving a dental injury. 
mouth guards protect your teeth and jaw. They prevent chipped or broken teeth, cuts to the lips and gums, and other damage to the mouth. They can also prevent traumatic brain injuries such as concussions, cerebral haemorrhage and neck injuries. (source – Health Canada) According to the American Dental Association, in the United States mouth guards prevent 200,000 injuries every year in high school and college sports alone.
Who should wear a mouth guard?
Everyone. mouth guards should be worn during any activity where there is a risk of falling or head contact with by oneself, with another player, or with a piece of equipment.
This includes obvious sports like hockey, boxing and football, but also baseball, soccer, gymnastics, skateboarding, roller blading, bike riding, basketball, and many more. In fact, mouth guards are just as important as other protective equipment such as helmets and faceguards. 
It is worth noting that the many mouth injuries occur in children between the ages of 7 and 14 when participating in everyday activities such as bike riding.
Are mouth guards expensive?
They don't have to be. There are 3 main types of athletic mouth guards: 
1. Stock mouth guards: These are ready made and not customized to your mouth so they may fit loosely and not be very comfortable. They are available in any sporting goods store.
2. Boil-and-bite mouth guards: These mouth guards become softened when heated. The idea is that you place it in very hot water until it softens, then you bite into it. This helps the mouth guard to form closely over your teeth. They are available in sporting goods stores.
3. Custom-made mouth guards: These are provided by dental professionals. It involves taking an impression of your teeth and creating a mouth guard that fits comfortably. This is the best type of mouth guard because it ensures the closest fit, and therefore, the best protection.
Stock mouth guards are priced the lowest. They can cost as little as $15-$20. Boil-and-bite mouth guards are still very affordable with a price tag between $35-$150. Custom-made mouth guards can vary greatly in price from $250-$2000.
What type of mouth guard is best?
Any mouth guard is better than no mouth guard, however, when compared to the cost of dental surgery, prescriptions, missed time off work, and months of pain, a proper fitting mouth guard can save you literally thousands of dollars in the long run. The higher the risk of injury in your sport of choice, the more important a well-fitting mouth guard becomes.
---
For more information on PPM mouth guards, click here. To watch NBA and USA Olympic athlete Michael Redd discuss his journey with the PPM mouth guard, click here.
Contact the team at River Dental about mouth guards.
Questions about our services? Ready to book an appointment?
Contact River Dental today.